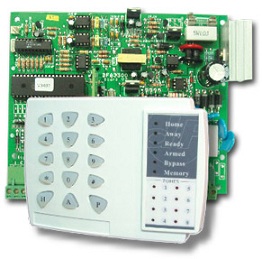 Our Autogate Specialist in Malaysia, also providing Alarm system. The alarm is a device that signals the occurrence of some undesirable event. These days' security alarms are capable of performing a variety of functions, many of which surpass the traditional role of the alarm system in the home. One such function is known in the home security industry as home automation. Alarm systems that are designed for home automation are generally constructed so that they can perform many different roles in addition to their traditional use as a security device.
There are many types of alarm system, such as all types of wireless security alarm systems, cellular alarm monitoring, cameras you view from your phone, two-way home alarm voice communication, home security mobile phone apps, receive texts when you arm and disarm your system, turn on and off your system from your cell phone.
Choose a security system customized from thousands of options:
* Direct communication with emergency responders in the event of intrusion,fire,
flood, carbon monoxide and freeze
* 24 hours and 7 days a week monitoring
* Video cameras that send streaming video directly to your cellular device or computer
* Wireless sensors that communicate with emergency responders over a private cellular
network–no wires for an intruder to cut.
* Door locks that can be locked or unlocked from anywhere in the world, and much more.
Our Autogate Specialist in Malaysia, Alarm system is a very good choice for you home because monitoring service for 24/7 will give you peace of mind by ensuring your family is safe and protected constantly.
8 FULLY PROGRAMMABLE ZONES
Each of the zones is fully programmable (e.g. interior, exterior, entrance/exit door etc.) and can be activated for maximum protection whenever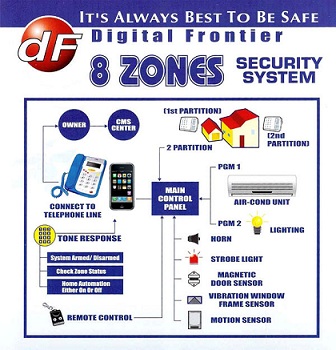 the zone is triggered.
TWO PARTITIONS
The area partition allows the control panel to split zones into different areas of operation. Each area carries a separate control for its designated functions. The panel operates effectively as two different systems by sharing with one alarm output.
BUILT-IN SMART DIALER
The smart dialer built into the system is able to inform you when the alarm is triggered. It is so powerful that you are even able to arm or disarm the system through any touch tone phone. There is a total of four phone numbers that can be programmed.
BUILT-IN HOME AUTOMATION (2PGM)
The control panel in the system can turn your system on or off with your PIN number and control outputs that activate anything that can be switched on and off (light, electric door, radio, air conditioner and etc.)
We offer not only the best deals available but the best choices. Our Autogate Specialist Malaysia, a ALRAM system installation team is available in your area, simply contact us and we will get our ALARM system consultant to visit your property and give you a free quotation of the high quality ALARM system with automation solution.